Speaking at the Indian Community Welfare Organisation's orientation on human trafficking for college professors in Chennai recently, retired IPS officer Dr P M Nair cited the example of human trafficking in Kerala.
A lady named Sunita wanted to go to the Gulf to work as a maid. The agent charged her Rs 200,000 and told her it will be easier to get a job there as Selma and he would get all the papers ready in that name. He told her she would earn Rs 50,000 a month as salary.
But once she landed there, she was raped and used for prostitution for four months. One day she had a Malayali customer who took pity on her and informed the local police. She was rescued and sent back to India.
Dr Nair said statistics show that five million Indians are browsing the web for child pornography.
111,000 children go missing every year in India and 41,000 remain untraced.
A boy went missing from Jharkhand for three-and-a-half years. He was traced to Tirupur in Tamil Nadu and the 17 year old boy was brought to Chennai. His mother speaks only Bhojpuri. A student of Elizabeth College who knows 13 languages spoke to the mother and asked her to come to Chennai. They sent her a ticket as she did not have the money to buy one. The child and his mother were united in Chennai.
The founder and secretary of ICWO, A J Hariharan, informed the gathering that they have started anti-human trafficking clubs in 108 colleges covering all 38 districts of Tamil Nadu.So how widespread is child trafficking?
Dr Nair tells A Ganesh Nadar/Rediff.com, "We have rescued women from Kazhakstan and Uzbekistan in Telangana and Andhra Pradesh."
Which states are vulnerable to human trafficking?
All the states in the country, some are source states, some transit states and others are destination states.
Which are the regular destinations of trafficking?
The demand for sex trafficking is everywhere.
What are the preventive measures that the government has taken to prevent trafficking?
To prevent trafficking at the source the government and NGOs are creating awareness about it. Spotting them while in transit and the destination is something we can all do.
We have to identify the so-called labour contractors and get them under our control. Panchayats have to be empowered to keep an eye on vulnerable children.
There are a large number of Nepali women in the red light areas of Mumbai and Kolkata. Is the government aware of this, and what steps have they taken to prevent this?
Lots of research has been undertaken on this topic and the government is aware. The response among the women has been minimal because we can take action only if they have been lured here on the pretext of other jobs.
Are there funds to rehabilitate trafficking victims, for if they are returned to their families they might get trafficked again?
After they are rescued, officials do a verification of their homes. If the homes are found, only then are the children sent back. If not, then they are sent to government shelter homes.
Are Indian women trafficked to destinations abroad? How does the Government curtail this?
This happens mostly to the Gulf countries. They are deceived by promising them jobs as maids and cooks. Once there, they are forced to become sex slaves.
We have rescued women from Kazhakstan and Uzbekistan in Telangana and Andhra Pradesh.
What is the government doing to prevent trafficking?
The government set up anti-human trafficking units in 2007. I personally set up nine units in the country in the states of Goa, Andhra Pradesh, West Bengal and Bihar.
Once the victims are identified a special task force of the police and NGOs takes over to rescue the children or women.
What does civil society need to do to prevent trafficking?
NGOs inform and the police rescue, then there is counselling and rehabilitation. The government is giving funds to NGOs involved in stopping trafficking.
Clubs have been started in colleges so that the youth is aware and helping. The first club was started in Kerala in 2014.
The police come into the picture only at the rescue stage. Children should be told that if they receive porn on their phones they should inform their parents or teachers who should in turn contact cyber crime, which will identify the source and take action.
Tell us about your first case of child trafficking in 1982.
I was the SP of Palamu district, Bihar, at that time, now it is in Jharkhand. A lady came to my office at 8.30 am to meet me. She had taken a bus from her village over 100 km away to meet me.
She told me that her 11-year-old son was not well and I should go and meet him. I was intrigued as she had travelled a great distance to meet me.
She said she knew she would get justice from me as there was an altercation between the Scheduled Castes and higher caste people in her village a month earlier. I had gone there and arrived at an amicable settlement.
I went there with her. She lived in a thatched hut. Her son was nervous and scared. I made him take off his clothes and saw that his private parts, both front and back, were badly injured. I took him to the district general hospital and got him admitted there.
Ten days later the doctor said he was well and I went to meet him. He was happy and related to me how 27 young boys were taken from his village by a contractor to work in a carpet factory in Mirzapur district, Uttar Pradesh.
They were promised Rs 500 a month, three meals and an eight-hour work schedule. They actually worked from 7 am to 8 pm with two 15-minute breaks to eat. In the morning they got two chapatis with an onion and in the evening they got two chapatis with a piece of jaggery.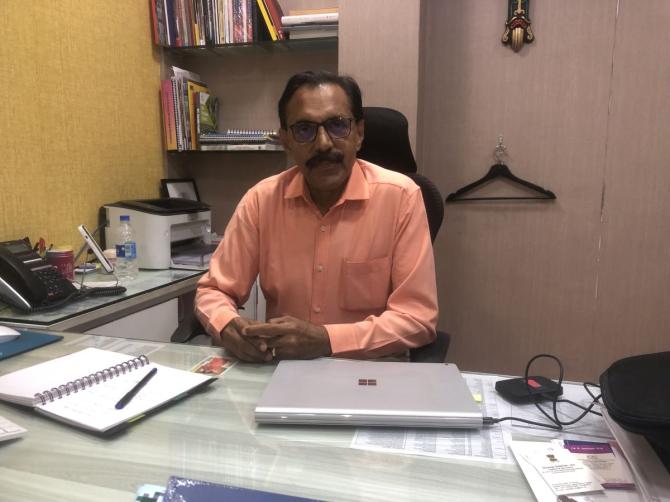 IMAGE: Dr P M Nair. Photograph: A Ganesh Nadar/
Rediff.com
In the night the managers there would take two or three boys with them and sexually abuse them. As he had fallen ill, the contractor brought him back to his village and said he would take him back after he became well. He was not given any salary as the contractor said he would be paid only after he worked for one year.
I got a detailed map of the place from this boy. I went to Mirzapur and met the police higher-ups. They knew what was going on and accepted the fact that the carpet industry needs children and the children work because of poverty.
I took the local sub inspector and visited the factory. I told him to introduce me as a buyer from South India. The manager, Shrivastav, showed me the carpets, but when I asked to visit the factory he refused.
My boy had told me that it was behind the showroom. The SI made him open the door. There were more than 100 children there. I asked those from Palamu district to raise their hands. Then I asked them if they wanted to go home, they said they did. My boy was with me.
He told me there was a back entrance through a toilet. I made the boys leave through the back door into a police truck which left for my district immediately. In the meanwhile, three other managers turned up.
The SI asked them to get into my police jeep. I left for my district 20 km away with them. I did not arrest Shrivastav as the boy had told me that he was a good man.
Those days there were no mobiles. I called the district higher-ups on my wireless and told them what I had done and would file a detailed report in 15 minutes, by then I had reached my own district.
The factory managers and owners were prosecuted. The children were given medical treatment and admitted to government schools in my district near their village.
This news was reported in the local newspapers. A week later, Kailash Satyarthi and Swami Agnivesh visited me. They congratulated me on my rescue and also gave me information about 133 children who were being exploited. I rescued all of them.